Aboriginal Procurement Policy
Click image to enlarge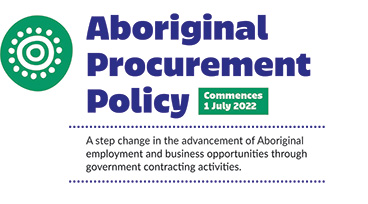 The Northern Territory Government's Aboriginal Procurement Policy commences 1 July 2022, provides a step change in the advancement of Aboriginal employment and business opportunities through government contracting activities.
This policy is key to enabling more opportunities for Aboriginal Territorians to participate in and be part of the upward swing in the NT's economic growth.
The Aboriginal Procurement Policy will increase equitable access to procurement activities for Aboriginal business enterprises.
While the Aboriginal Procurement Policy will provide opportunities for all businesses, it will directly apply to all Territory Government contracts with an estimated value of $15,000 or greater and it will be up to the agency to determine the most appropriate mechanism for procurement.
Existing Aboriginal enterprises can apply to be recognised as an Aboriginal Business Enterprise under a transitioning agreement for a period of up to 18 months.
Click image to enlarge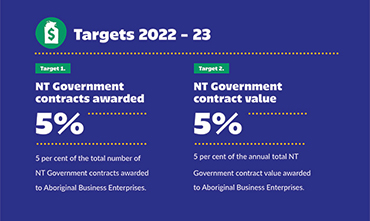 NT Indigenous Business Network's 'iNDiSTRY Connect, the Blak Business Directory'
The Territory Government is working with NT Indigenous Business Network (NTIBN) regarding appropriate methods for confirmation of Aboriginality in procurement, to protect the intent of an APP.
Aboriginal enterprises can register on the NT Indigenous Business Network business directory. The NTIBN Aboriginal Business Register is called 'iNDiSTRY Connect, the Blak Business Directory'.
Work is underway by NTIBN to roll existing members over to the Blak Business Directory and generate new membership.
Find out more https://ntibnportal.ntibn.com.au/pricing/