Economic Development
Aboriginal people represent approximately 30% of the Territory population, owning or having rights and interests in a substantial portion of the Territory's landmass and most of its coastline. These factors make Aboriginal Territorians key drivers and partners in the Territory's economic future.
The Northern Territory Government is committed to maximising opportunities for participation of Aboriginal Territorians right across our economy and has developed the Aboriginal Economic Participation Framework (AEP Framework) to achieve this commitment.
The AEP Framework is a whole-of-government approach that aligns with similar schemes operating in all other jurisdictions nationally.
It supports the NT Government's commitments to bring Aboriginal Territorians to the forefront of economic development in the Territory, and aligns with the National Agreement on Closing the Gap and the Closing the Gap NT Implementation Plan, the Everyone Together Aboriginal Affairs Strategy and the Local Decision Making Framework.
When it comes to consistency of the Northern Territory Government's policy position and our commitments under the National Agreement on Closing the Gap, definitions of an Aboriginal Business Enterprise and an Aboriginal Community Controlled Organisation have been established.
Aboriginal Business Enterprise
An Aboriginal Business Enterprise requires that the business or community organisation must:
be 51% or more Aboriginal owned
operate as a business, including companies, incorporated associations, sole traders, partnerships, trusts and social enterprises or registered charities if they are operating as a business
demonstrate that Aboriginal and Torres Strait Islander people are involved in the daily operation and have effective control at least equal to the degree of ownership, and
be registered with a certifying authority.
Click image to enlarge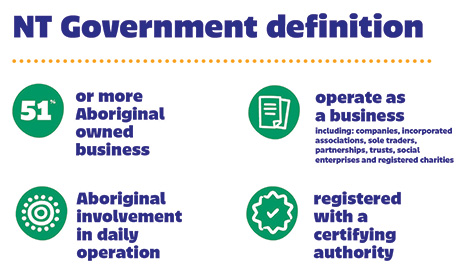 Certifying authority
A certifying authority is an organisation that provides services to confirm the Aboriginal and Torres Strait Islander ownership and control of Aboriginal and Torres Strait Islander enterprises.
The certifying authority's processes are recognised by the NT Government as suitably robust to assure the Territory of the integrity of its certified Aboriginal and Torres Strait Islander enterprise list.
The NT Indigenous Business Network is recognised by the NT Government as the peak body for Aboriginal Business Enterprises in the Northern Territory and the primary certifying body.
Approved certifying authorities include:
Click image to enlarge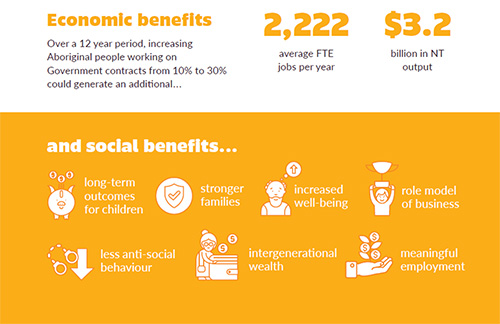 Aboriginal Community Controlled Organisation
An Aboriginal and/or Torres Strait islander people Community Controlled Organisation (ACCO) delivers services, including land and resource management, builds capability and empowers Aboriginal and Torres Strait Islander communities and people; and:
is incorporated under relevant legislation, and is registered and operates as a not-for-profit organisation;
is constituted and operated by members who are recognised in their community as Aboriginal or Torres Strait Islander people;
originates from, or has a material and ongoing connection to and/or with the community, or communities, in which the services are delivered;
is governed by a body constituted in the majority by Aboriginal or Torres Strait Islander people;
is independent from and is not controlled to any extent by any sphere of government (except to the extent that an organisation receives funding, and under a formal agreement is accountable to such governmental body for the receipt and expenditure of the funding).